Alexis Sanchez reminded Arsenal fans of his quality when he inspired his team to a 3-2 win over Crystal Palace on Thursday night. He scored twice and was a constant threat to the Eagles' defence, while his work rate was outstanding throughout. Sadly, for Arsenal, such performances have been few and far between this season as Sanchez has failed to recapture the form that defined his 2016/17 campaign.
But if he can continue to perform with such incision and gusto he could spark a vast improvement in Arsenal's form in the second half of the season. Fans are understandably sceptical, but Sanchez was at his imperious best on Thursday and if he can rediscover consistency he can make the Gunners a force to be reckoned with for the next five months.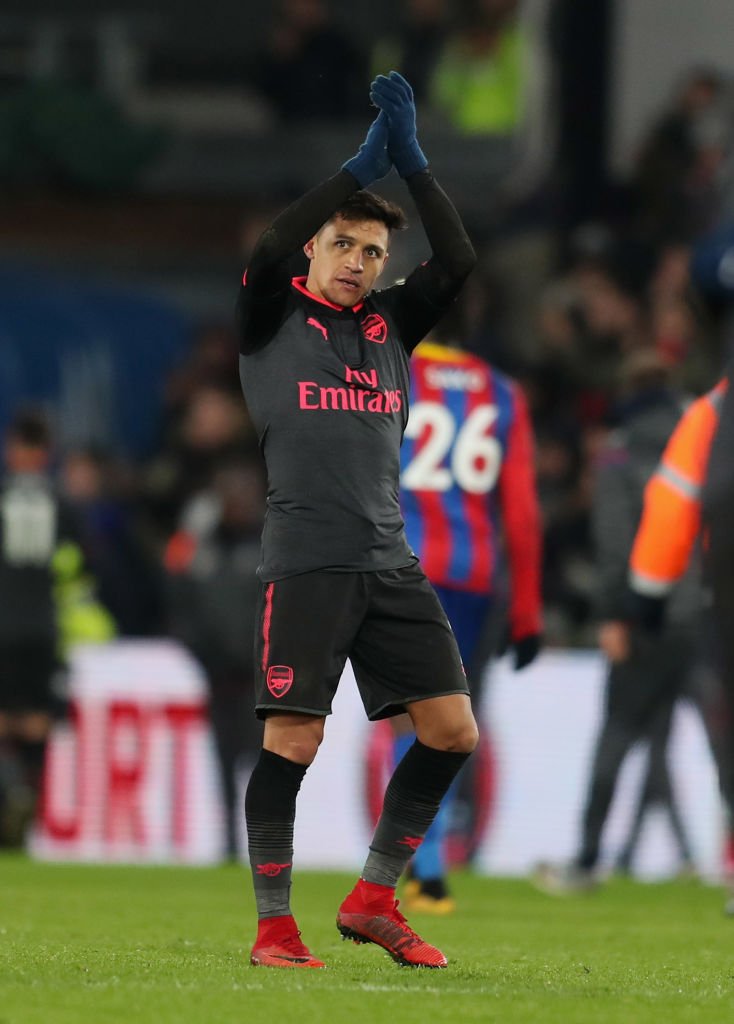 Last season Sanchez banged in 30 goals and claimed 19 assists to cement his status as Arsenal's most devastating attacking force. His man of the match performance inspired the Gunners to a sensational FA Cup final win over Premier League champions Chelsea, so the club were understandably desperate to keep hold of him in the summer.
The Chilean refused to sign a massive new deal because he was eager to move to Man City, who offered £60 million for his services. But Arsene Wenger played hardball and forced him to see out the remaining year of his contract when he could not land a replacement in Thomas Lemar. They now face losing Sanchez on a free transfer next summer, but Wenger decided it was worth the risk.
The prevailing logic was that another 30 goals and 19 assists from Sanchez could fire Arsenal back into the Champions League and earn the club the riches that a place at Europe's top table delivers, allowing the Gunners to recoup the £60 million they turned down and find themselves in a better position to rebuild.
However, Sanchez has rarely come close to matching the level of performances he delivered last season. We are now past the halfway point in the campaign and he has registered just eight goals and four assists. His attacking threat has been blunted, his passing has been haphazard and his attitude is questionable. His showing against Crystal Palace was superb, but on many occasions, he has flattered to deceive. The more cynical fans could even accuse Sanchez of simply turning it on when the January transfer window is looming.
Teammates have grown frustrated with his attitude and application and it has led to damaging disharmony in the dressing room. Most players refused to celebrate with Sanchez when he scored on Thursday night, which is never a good situation for a club to be in.
At the other end of the pitch Arsenal's defensive frailties were once again exposed and that could ultimately derail their bid for a Champions League place. Check the markets at Sporting Index and you will see that Arsenal are outsiders to finish in the top four, despite the Palace win.
Man City are running away with the title, Man Utd and Chelsea look set to sew up the next two places and then Liverpool and Spurs are given a better chance of accruing more points than the Gunners. Wenger's gamble looks in danger of backfiring, so could it be worth selling Sanchez in January?
They will not get £60 million for an out of sorts 29-year-old with just six months left on his contract, but they might recoup around £25 million, perhaps more if they can spark a bidding war between Man City and PSG. Some fans might argue that selling Sanchez sends out the wrong message, but if it will improve morale among the rest of the squad it is worth considering.
Theo Walcott or Olivier Giroud could probably have registered eight goals and four assists if they had spent as much time on the pitch as Sanchez has this season, while Danny Welbeck has returned from injury and provides another option.
Arsenal could sell him and then dip into the transfer market and try to sign someone like Lemar from Monaco or Nabil Fekir from Lyon. That would certainly send out a strong message to fans, players and rival teams about Arsenal's level of ambition for the second half of the campaign. An exciting new face in the dressing room could galvanise the current crop of players, who are not overjoyed by seeing the sulking Sanchez mope around The Emirates.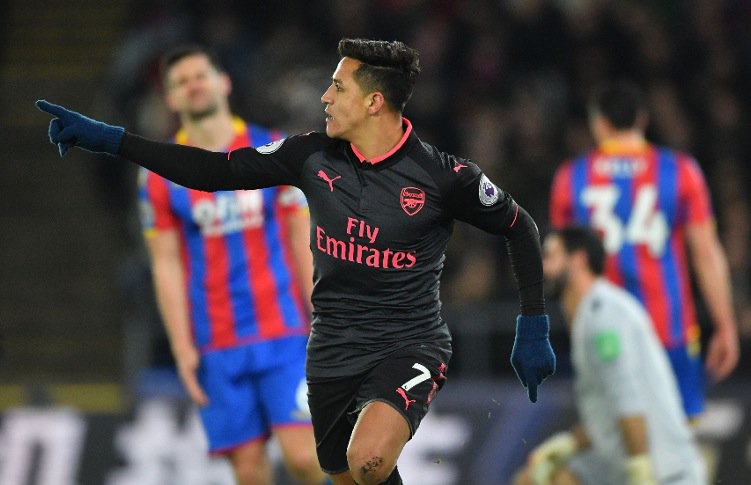 His frustration is understandable as Man City have been astonishing so far this season and are all but certain to win the league title. They are also Champions League favourites and have been playing a fabulous, swashbuckling, hard-pressing game that is perfectly suited to Sanchez's talents.
He could be a part of that unprecedented success story, but instead he is part of an Arsenal team that are well off the pace in the Premiership and playing Europa League football. Meanwhile, Chile have failed to qualify for the World Cup, so there is no need for Sanchez to impress his national team boss, so his motivation levels could be called into question.
However, you simply cannot ignore his showing against Crystal Palace. He showed he has not downed tools and impressed throughout with his willingness to track back as well as lead attacks. He is Arsenal's deadliest finisher and their most dangerous player, and if they are to have any chance of overhauling Liverpool and Spurs they need to keep him. If he is only operating at half of his potential he is a better option than Walcott or Welbeck, and it is always worth keeping someone of his talent on the pitch. He can win a tight game by conjuring up a moment of magic from deep, and that is a quality that few players in the world possess.
A replacement like Lemar or Fekir would take a while to settle in, but Sanchez has a proven ability to excel in this league, hence Man City's eagerness to sign him.
Wenger took the decision to forgo £60 million and keep him in a bid to break back into the top four and now he needs to stick to his guns. Arsenal are now just one point behind fourth placed Liverpool and still have a decent chance of finishing in the Champions League places, but their rivals are on fire.
Tottenham are blessed with the talents of Harry Kane and Christian Eriksen, while Liverpool can call upon the likes of Philippe Coutinho and Mohamed Salad, so Arsenal need a superstar like Sanchez if they are to stand a chance of keeping pace. His teammates do not have to like him, but they can only benefit from his presence in the side if he is firing on all cylinders.
Either way, it is a risk worth taking because he can deliver the perfect leaving present by helping the Gunners seal Champions League football. Arsenal should keep hold of him in one last desperate bid to break back into the top four and then rebuild in the summer.
Comments
comments